It's been awhile since I've done a Mine on Monday post, and even longer since I've done a Me on Monday post.  So in keeping with my goal of blogging more this year, and not only about my sessions, I give you my first Mine on Monday post of 2012!
Back in November, for the 1st time since Genevieve was born, we had family photos taken.  I was very excited for this shoot because my friend and fellow female photog extraordinaire, Kristina Chartier, was doing our session.  I was lucky enough to trade sessions with her, and spent most of the day preparing my 41 year old self for our pictures.  I think this is why it's SO important for photographers to be in FRONT of the camera now and then… if for no other reason but to be reminded of just how much work it takes a family (our clients) to prepare for a portrait session.  I had my hair done, makeup applied professionally, then ran home to get myself, Joel, and the girls dressed in the outfits I had so carefully planned out for months.  Jeesh, I was exhausted before the session even started.
I have to say that Kristina is a rock star because Genevieve literally cried 90% of the session.  She did NOT want her picture taken, kept repeating "bye bye" over and over again, and we tried everything to make her happy.  BUT, we got some amazing images, and I am thrilled that my girls will have pictures with me actually in them to enjoy when they are older!  Thank you Kristina!!
And because the #1 question I get asked before a session by my clients is, "what should we wear".  Below is the information on our outfits and where to find great clothes for your next photo shoot with me…
Belle & G's dresses by: Butterfly Baby Place
The girls' headbands/clippies by: Evi Luna Boutique
Belle's shoes & the girls' sweaters from: Target
Joel's shirt from: Kohl's
My jacket from: Macy's (INC)
 Enjoy,
Tessa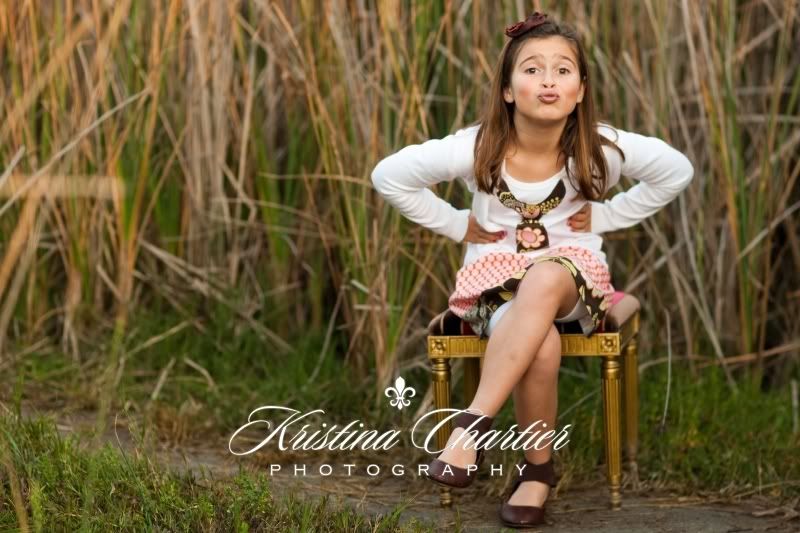 My new favorite photo of Isabelle, my 8 year old.  This photo shows off her personality perfectly!!!!