Here they are, my 2013 October Holiday Minis.  Due to my daughter's Fall Break, and a few one-hour sessions that are already on the books, I am not offering as many October minis as I have in previous years.  Don't worry though, I will be "hitting it hard" in November!  So if you don't see the location that you wanted, it WILL be listed in November, as well as a new location, YAY!   It is always my number one priority to make sure that your session experience be the best that it can be, and result in the most beautiful images that I can take!  That being said, the Seaside Sofa Sessions that are listed below will be the last ones scheduled for the rest of 2013.  I have found that shooting Seaside Sofa Sessions in November can be iffy to say the least, between storms, storm surges, piles of seaweed accompanied by swarms of sand flies, cold unhappy children, etc.
ALL of the minis below are 20 minute minis, and are perfect for photos of couples, just the kids, or small families (up to 5 people) who are interested in grabbing a few fabulous photos for their Holiday cards and gifts.  These sessions include a 21 day private online gallery & approximately 20 beautiful high-resolution images on CD w/ print release.  These minis will be booked on a 1st come, 1st served basis, and are NOT confirmed until your deposit has been received.  My September minis filled up in 24 hours, and these minis are sure to book quickly as well, so get yours before they're gone!!!
To book one of the minis below, please email me at:  tessa@grinandshareitphoto.com
A $50.00 non-refundable deposit is required to book your session, and will be deducted from the balance due the day of your session.
Old Poway Park
WHEN: Sunday, October 6th
TIMES:

8:30am – BOOKED
8:50am – BOOKED
9:10am – BOOKED
9:30am – BOOKED
9:50am – BOOKED
Seaside Sofa Sessions {PB}
WHEN: Saturday, October 12th
TIMES:
8:30am – BOOKED
8:50am – BOOKED
9:10am – BOOKED
9:30am  – BOOKED
9:50am – BOOKED
10:10am – BOOKED
The Old Steel Bridge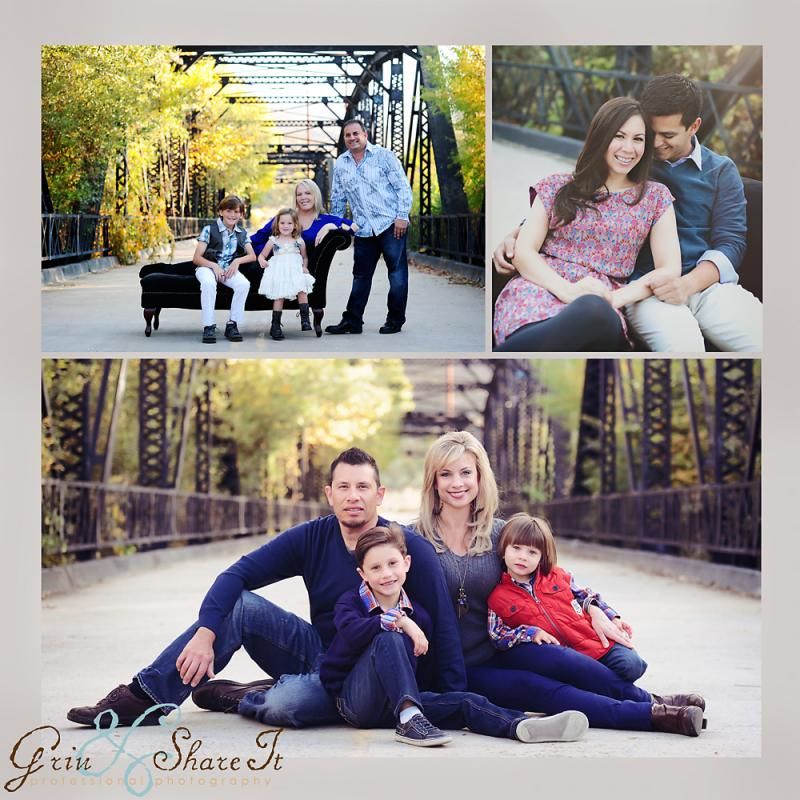 WHEN: Sunday, October 20th
TIMES:
4:30pm – BOOKED
4:50pm – BOOKED
5:10pm – BOOKED
COST: $250.00 (plus sales tax)