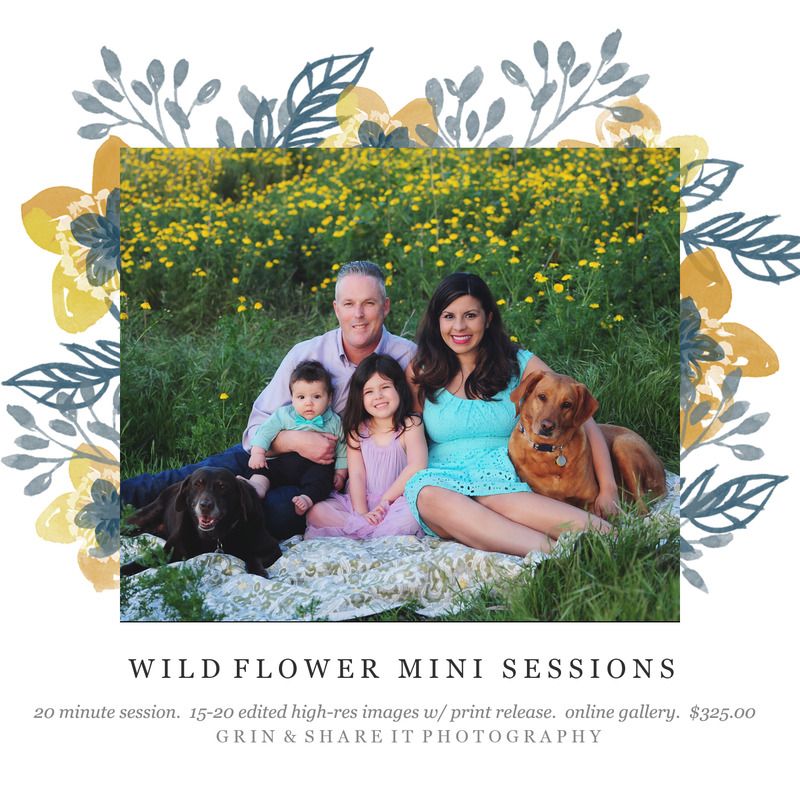 Wild Flower Mini Sessions are back, and this year the flowers should be epic due to all of the rain that we received this winter!!  These gorgeous yellow flowers only bloom once a year, and last for about 3 weeks, but that's only part of what makes these sessions so special. Spring brings with it lovely weather to inland San Diego, right before the heat kicks in and the green fades to brown.  The sunsets are amazing, and the warm light mixed with the yellow flowers makes for some incredible images.  As in the years past, I will be booking only one mini per day.  This ensures that each family can benefit from doing their shoot when the light is just perfect.
Wild Flower Minis are great for families (single families only please, up to 5 people), milestones, or just some beautiful updated pictures of the kids.  These 20 minute mini sessions include the session itself, a 21 day private online gallery that you can share with your family and friends,  & 15 edited high-resolution images w/ print release.
To book your session, please email me your requested date at: tessa@grinandshareitphoto.com.  A $100.00 non-refundable deposit is required to secure your session, with the balance due at the time of your session.  As with all my minis, I will book these on a 1st come, 1st served basis (please scroll to the bottom of this post to see dates/times available).
~Tessa
Dates/Time Available:
Friday, April 7th at 6:45pm – BOOKED
Sunday, April 9th at 6:45pm – BOOKED
Monday, April 10th at 6:45pm
Tuesday, April 11th at 6:45pm
Wednesday, April 12th at 6:45pm – BOOKED
Thursday, April 13th at 6:45pm